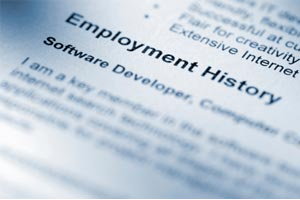 If you're not updating your resume frequently and customizing it for each job search applications you apply for, your resume may not be up to snuff. And it seems that a lot of job seekers may be running this risk. In a recent poll, we asked, "When did you last update your resume?"
And here's what you said (1,545 respondents):
-Within the last month 39%
-Past 1 to 3 months 15%
-Past 3 to 6 months 9%
-Past 6 to 12 mos 9%
-More than a year ago 29%

If you're conducting an active job search, it's often a good idea to update and tweak your resume every time you apply for a job, in part to make sure that you've optimized your resume with appropriate keywords, but primarily because you want to make sure that you're selling yourself as the right candidate for that particular job.

In thinking about your resume, it may be helpful to think of what your resume is not.

1.Your Resume Is Not the History of Your Career

You may be saying to yourself, "My job history hasn't changed — so why do I need to update my resume?" Well your resume isn't just the history of your career. Your resume is also a sales pitch! Employers don't care about what you did in the past. That is, they care more about what you can do in the future — your past experience is merely proof that you can do what you say you can. So think of your resume as a customized advertisement that'll make a particular employer think, "I've got to have this person on my team right now."

2.Your Resume Is Not About What You Want

You probably don't need to waste space on an "objective statement." You've got only a few seconds of the hiring manager's attention, so skip the part about seeking a challenging position — we know that already (that's why you sent your resume). Instead, tell the readers of your resume who you are with a title and a summary list.


3. Your Resume Is Not Your Life Story

Most of the resumes I look can do with at least a bit of trimming — they include information that doesn't sell the candidate for the job he or she is applying for. If a past job or experience isn't relevant to your current application, cut it — and make room for one that is.

4. Your Resume Is Not a List of Past Job Descriptions

Think of it this way: If a past job title was Marketing Copywriter, you don't need to say "wrote marketing copy" beneath that. Don't tell a story of past job descriptions with your resume — tell a story of your past achievements and successes. Use powerful active verbs, and quantify your success with numbers whenever possible — remember, your goal is to make the employer say, "I want that person now!"

Your resume should be a living document that adapts and evolves as you do. Make notes about your successes, learning experiences, and so on — and set a monthly appointment to review and update your resume.


Share your thoughts on resumes in the Comments section — as well as your ideas for future polls!