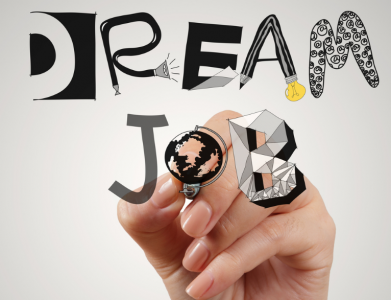 Not all of us could get our dream job, or the kind of job we dreamed about when we were kids. For some, a dream job would be that of a police officer, a fireman, or a soldier, and one could indeed consider oneself lucky if one could gain a dream job of his choice during his lifetime.
Perhaps the most perplexing part is that many people end up in jobs which have no connection or link with what they have studied in High School or University. One may have studied law but could have ended up balancing ledgers in some commercial firm. It is indeed one thing to pursue a dream career and yet another to gain and realize it during one's lifetime. However, for people who believe in chasing their dream career to the ultimate, these are the tips that need to be passionately and fervently followed for any possible chance of success.
1. It is not enough to dream.
It is most important to plan to realize one's career dreams. Anybody could dream, but only select few could turn these into concrete reality. It is important that we know ourselves fully well, our strengths and weaknesses and how we could build on our strengths and remove our weaknesses. The approach should be calm and positive, objective not emotional. By knowing and understanding what we can do, and what we cannot do, and basing our dream jobs on our strengths, competencies and capabilities we have indeed taken basic and fundamental steps in realizing our dreams, one day or the other.
2. It is important to see from perspective of future employers, too.
Employment is indeed two- way- traffic in which both employers and employees need to benefit from each other. From an employer's perspective, it is in terms of finding solutions for their problems and contributing to the overall goals and objectives of business.
Employees not only need to think of their interests, but they also need to think of how well they could provide value-addition to the firm, and how well their personal and business skills and competencies could be used by the firms in which they wish to seek their dream careers.
3. Sell your skills effectively.
It needs to be understood that firms themselves operate in competitive environments and thus, it is necessary that pursuit of dream careers would need to make some sacrifices, both of personal and organizational kind. Effective skill selling considers the use of qualifications, experiences, skill sets, and competencies that could attract and retain prospective employers. While it is necessary to present one's credentials in fair light, it is also important to substantiate facts and evidences. One should also not sell oneself short since this could not have the kind of positive outcomes necessary for sustainable career growth and development.
4. Put yourself in the employees' shoes and think about the outcomes.
There are indeed robust reasons for seeking dream jobs including that of emoluments, commitments, growth prospects, and job satisfaction. All these need to be nurtured and satisfied in the dream job. It is also important to consider that one's concept of a dream job may also change over time, and what may have been considered a dream job several years ago may have given way to other, more attractive and beneficial propositions.
However, it is required to consider our own skills and competencies in sync with market realities before making ultimate judgments about dream jobs and the focused plans and strategies that could be used to gain and sustain such kinds of dream employment opportunities.
Finally, a dream job would be one that offers scope for the perpetuation of careful and select blend of rewards, growth opportunities and the needed individual preparations to meet them head on.
Photo Credit: Shutterstock