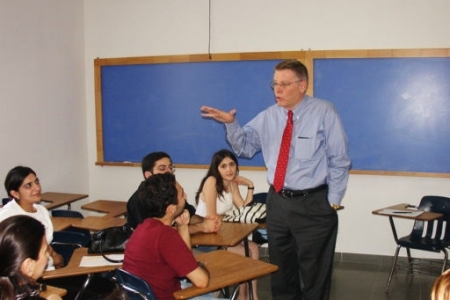 The teaching profession probably wouldn't be your first choice if your aim was to make as much money as possible from your career, with many teachers considering the job satisfaction of preparing our next generation as a reward in itself.
Although many teachers earn a relatively low salary in comparison to some other professions, there are some smart professional development strategies such as using TLC Graduate Credits for example, which can open the door to a higher annual salary.
What and where you teach makes a difference
The general perception is of course that the average teacher's salary is not going to make you fabulously wealthy, but if you compare some other professional occupations that require the same entry-level requirement of a 4-year degree, it doesn't actually fare that badly.
Using figures collated by the U.S Bureau of Labor Statistics, a teacher's salary can vary by some margin, depending on what and where you teach.
The median annual salary of a Kindergarten or Elementary School teacher is just over $53,000 in their 2014-15 survey and a Preschool teacher is likely to be earning slightly over $27,000.
If you chose to train to become a Special Education teacher, you could be earning in excess of $55,000 and make it the position of Principal at Elementary, Middle or High School and you should be able to command a salary in the region of $87,000 or more.
These average salaries are more competitive than you might have imagined given the general perceptions about teacher's pay, but there are also other benefits too.
Working hours and other benefits
The statistics also estimate that a full-time public teacher is working an average 36.5 hours during per week during the school year.
When you consider that the average school year across most states usually comes in at under 200 days, this makes the salary look even more competitive, especially when you consider the additional benefits that the majority of school districts offer their educational staff.
Most teachers should be able to enjoy good life insurance and health cover plus what can probably considered as generous retirement and pension plans, compared to some other industries and professions.
The other point worth noting is that there are plenty of school districts who are prepared to pay in full or contribute towards a teacher's professional development costs by supporting them in their continued education.
Enhancing your career and salary prospects
The amount of college education on your resume will often have a direct bearing on the amount of annual salary you are able earn.
Adding a master's degree, doctorate or any other recognized certification such as special education for example, has the potential to add thousands of dollars to a teacher's base salary and is therefore a good way of progressing your career and earning more money at the same time.
Add to your skill set
Diversification could open up a whole new range of opportunities to develop your teaching career and boost your annual salary.
By getting a graduate degree in a new area of teaching that you have an interest in but are not presently qualified to do so, you can add to your skill set and instantly make yourself even more employable.
There are many different graduate programs that can often be custom designed to fit around your current teaching commitments and allow you to carry on with work and family life whilst adding to your current skill set.
Other initiatives
As well as making longer term plans to boost your career prospects and earnings by enrolling in a graduate program, there are some more immediate initiatives that could help you to earn more money as a teacher.
Helping with after-school tutoring programs and coaching athletes out of school hours are just two ideas that make use of your teaching skills and something that can be rewarding in more than just financial terms.
You could also becoming a mentor for new teachers coming into the profession and applying to become a department head can help boost your salary if you are able to get the position offered to you.
There are a number of extra teaching opportunities that offer you the chance to boost your base annual salary and of course if you are prepared to consider a relocation, you can earn a better living in certain areas compared to where you currently teach.
Getting the right teaching degree and qualifications plus continuing your education whilst in the profession, should allow you to enjoy a better salary than you might have anticipated.
Joseph CdeBaca MaEd. is a 20 year classroom veteran, and founder of Teachers Learning Center (TLC). Joseph enjoys sharing his ideas and insights online.