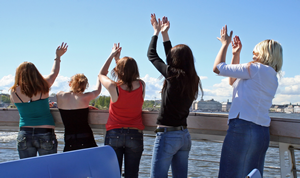 They say that money doesnt buy happiness. As true as that might be, a 2010 study from Princeton University found that, while money doesnt necessarily create happiness, it certainly doesnt hurt. Up to a cap of $75,000 a year, salary increases dramatically affected how participants in the study rose above certain adversities. For example:
51 percent of divorcees who made less than $1,000 a month reported they felt sad or stressed the previous day, compared to only 24 percent of those earning more than $3,000 a month.
41 percent of low-earning study participants with asthma reported feeling unhappy, as opposed to 22 percent of the wealthier group.
"High incomes dont bring you happiness, but they do bring you a life you think is better," say the authors of the study at Princetons Woodrow Wilson School.
Careers that offer a national annual median salary of at least $75k
The Bureau of Labor Statistics (BLS.gov, 2012) most recent job projection numbers show six different jobs with national median annual salaries that meet or exceed $75,000 -- the amount of money the Princeton University study said some people need to earn in order to be content. The education requirements for these careers vary, but some require a bachelors degree. Each of these professions is projected to grow by at least 20 percent between 2010 and 2020; some are expected to grow even more.
Salaries vary everywhere you go, but so does cost of living. While $75,000 may go far in Fargo, North Dakota, it may not be enough to meet living expenses in high-rent cities such as Manhattan and San Francisco. Even so, it would be nice to have the chance to earn at least $75k a year and find out for yourself if that amount, indeed, is the threshold to happiness.
About the Author
Karl Fendelander cut his teeth on web writing in the late nineties and has been plugged in to the newest technology and tuned in to the latest trends ever since. With an eye for design and an ear for language, Karl has created content and managed digital media for startups and established companies alike. When he unplugs, Karl can be found biking about town and hiking and climbing throughout the West.
This article is originally published on Schools.com.