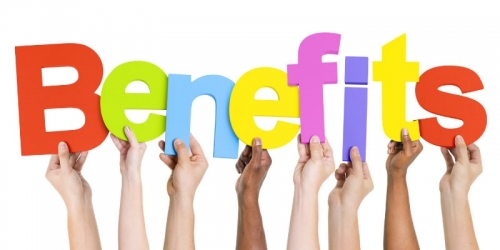 What do you understand by perks and benefits? Well, sometimes the two terms are used interchangeably but here is a distinct definition of the two to help you understand.
• Benefits
Also referred to as employee benefits, can be identified as a way of compensation besides the normal salaries and wages. If benefits were not offered by the employers, most employees would have to fund themselves.
• Perks
Also referred to as corporate perks or perquisites, these are additions to the salary and benefits awarded to an employee. Basically, they are offered to motivate the employee to choose one employer over the other.
Some of the top 5 benefits offered by employees include the following:
#1. Health Care
Some of the benefits under the health care provisions include vision, dental, life insurance for the employee and the whole family. It is the most important benefit since most employees spend a lot of time working in the office.
#2. Paid Leave
Employee's value paid leave whether it is for bereavement, illness or vacation. It is a good way to reduce employee burnout. The standard time for paid leave is two weeks but three or more would definitely be more interesting.
#3. Retirement Savings Plan
A 401k with tax advantages is an excellent motivation for employees to save more money. Employers who offer to match the contributions to a certain amount can count on more employees sticking around.
#4. Maternity Or Paternity Leave
Employees need to be reassured that they can pursue their career while developing their families.
#5. Professional Development
Many employees want to master new skills and develop their careers now more than ever. Employers can offer to fund training or continuing education to make their employees comfortable.
Some of the top 5 perks that enhance recruitment and employee retention include the following.
#1. Workplace Wellness Programs
As an employer, you should value your employees by investing in their health and overall wellness. These programs include gym memberships, yoga classes, free health screenings and much more.
#2. Free Food
Some companies offer their employees free food including snacks in the premises. It is a good way to save a lot of money and time for the employees.
#3. Remote Working
The work from home invention has been crucial to improving employee productivity. There is also the work from anywhere program where an employee can work from anywhere as long as he/she is getting the job done successfully.
#4. Concierge Services
Many employees value the balance between their work and their normal lives. Everyone has errands that seem boring regardless of whether or not they are important. Providing a concierge service to your employees such as dry cleaning or auto servicing can work wonders to keep your employees interested and motivated.
#5. Reimbursement For Transportation And Parking
Do you have employees who travel very long distances, pay for parking, use public transportation, cross bridges, pay tolls or traverse tunnels? Well, you can always offer to pay part or the full amount for these transportation needs to keep them motivated.
#6. Garden Area
A staff garden is the perfect place for people to relax and un-wind and can be a huge perk in a built up urban space. You can include a vegetable garden, water feature like this from Outdoor Fountain Pros or even a relaxing Zen garden. These gardens have been shown to help relax people, give them another focus and can really help with productivity and well being.
These perks and benefits will do wonders to motivate and retain your employees. However, many creative professionals are always looking to work with companies with values that are similar to theirs. Therefore, as an employer, you need to promote and build an attractive and enticing corporate culture. Also, you should work towards establishing a reputation that fosters a very supportive working environment. So, you need to work together with your employees to find the middle-ground.