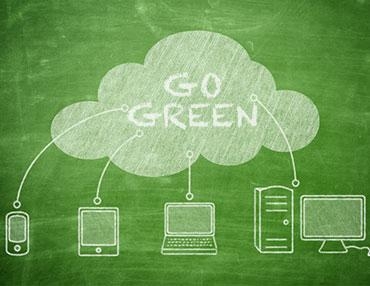 Many people hope to have a career these days in businesses that use responsible, sustainable business practices. However, businesses sometimes struggle with incorporating green technologies for a number of reasons. Cost is a deterrent for many businesses while others simply do not know exactly which practices will be most beneficial. Yet, there are a number of ways to incorporate green technologies for a business to help it become sustainable for years to come.
Automation
Some forms of green technology can help businesses grow simply because they cut down on costs. Automation technology helps cut down on costs sometimes in unexpected places.
For instance, smartphones and other mobile technology allows business owners to control appliances and other technology such as the thermostat while away from the physical location. This means they can turn off appliances and lighting that may have accidentally been left running after hours without wasting the time and resources to go back.
Lighting Control
Automation also goes into lighting control, which can also be an effective way to cut down on the use of resources unnecessarily. Light control helps business owners find out where they both most and least need light sources so that they do not overuse it. Many people do not realize how important lighting (and other factors such as temperature control) is when it comes to employee productivity.
In-House Recycling
Even though many people first think of bottles and cans when it comes to recycling, there are many other recycling methods that will help businesses create a more sustainable atmosphere. Businesses need to determine what items they can reuse to maximize their usage. This can include anything from external storage drives to coffee room items like cups and utensils. Very few offices still use paper products (except with official documents that require signatures or other such unique marks).
Of course, traditional forms of recycling can help a business not only save company funds but also present itself in a better light to the public. If the company does not have its own in-house recycling program for paper, plastic, metal, and other recyclable products, it can work in conjunction with a local recycling program. In fact, such a collaboration has other residual benefits such as good publicity and public relations.
Alternative Energy
Not all sustainable business practices begin with the intention of saving money. Many of them actually incorporate green technology as a way to attract clients and customers who feel better about working with companies that use green practices. Alternative energy is an easy and effective way to begin using green practices for a business, particularly solar power. The solar power movement has gained momentum in all kinds of industries regardless of products or services.
However, there are also other forms of alternative energy available. For instance, many people use wind power in conjunction with other forms of energy including solar power. Others try to make use of other energy sources besides electricity including natural gas and power generators that run on wind up batteries. With these types of technology, businesses show that they are concerned about ecological issues and are actually doing their part in contributing to sustainable efforts.
These days, businesses need to incorporate green technology into its everyday working in order to sustain the environment as well as themselves. Automation is becoming more common in various business settings with the use of wireless technology, particularly lighting control. Recycling also remains one of the easiest forms of green technology to incorporate into a business. More businesses also use alternative sources of energy, which is one way to help place them in a more positive public light.
Joshua Turner is a writer who creates informative articles in relation to business. In this article, he describes green technologies in business and aims to encourage further study with an online green MBA.
Enjoy this article? Check out these related articles: