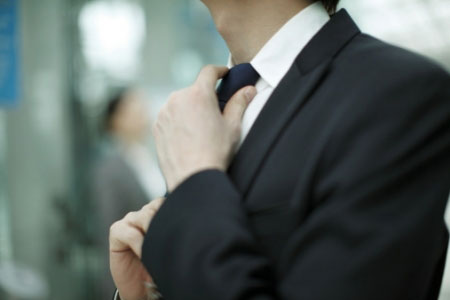 GQ magazine, in an article titled, "2013: The Year We Put a Bullet in the Dress Code," writer Glenn O'Brien pinpoints the moment in time where a formal office dress code was no longer in play.
Alison Doyle, job search expert for About.com, agrees with O'Brien's assertion. That unless you work in a few select industries — law, finance, banking or jobs that require a uniform — you're free to wear just about anything you want to work.
But is this true for people on the job hunt? Sure, the nature of work —and really, the nature of society — has become more casual, but can job seekers preparing for an interview be as cavalier when it comes to their clothes?
Doyle says the interviewee has to take a few cues from the potential interviewer, and the people who work at the company currently.
"You need to be cognizant of the job you're applying for," she says. "If you want to get hired it's important to check out what the employees are wearing."
The lack of an all-encompassing standard at a company can add confusion to the mix. After all, what happens if while walking through the doors to an interview you spot a group of people in formal business attire walking out, but you notice another group in un-tucked shirts and jeans having lunch in the cafeteria?
Doyle says it's OK to ask.
"Ask the person who scheduled your interview," she says. "Ask someone in HR."
One good rule of thumb to follow: You don't want to stand out based on how you dress in an interview, for better or worse. If you know you're interviewing at a brand new tech startup with 10 employees, it's likely they're not wearing expensive suits to the office, and you shouldn't either. Conversely, if you're going to interview at a Wall Street firm, you might want to shell out some dough to meet the appropriate attire standards.
Ultimately, clothes are a supplement to the total package. In any interview, and at any job, your clothes can't get the work done for you.
"In general, personalize your work and interview attire without overdoing it," Doyle adds. "It's important to be noticed for your accomplishments not what you're wearing."